How to Quit Your Job and Build a Profitable Home Business Using Nothing But Emails!
Email Profit Academy presents The 7 Steps Email Profit System…
Yes, I'm Ready to Get Started!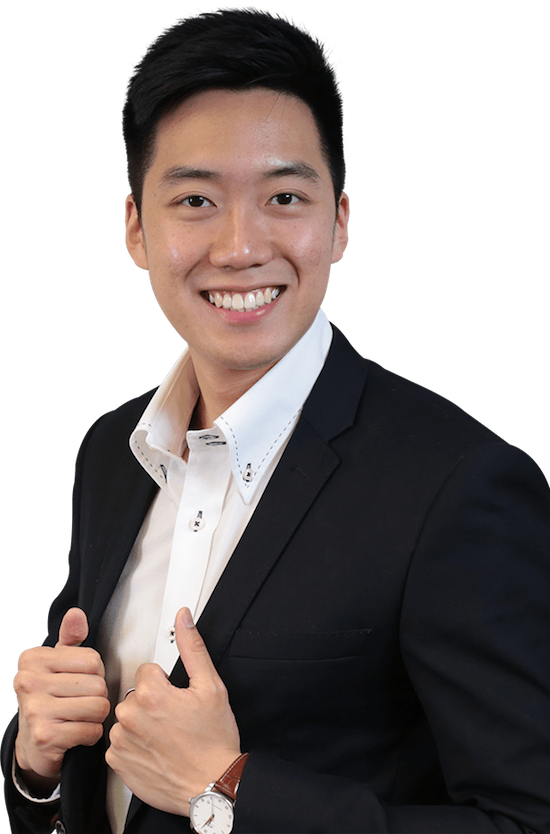 Discover how you can create the perfect online business that gives you the time, money, and freedom you're craving, all from the comfort of your own home and without stocking a single product.
Ask yourself whether any of these situations sound familiar:
Working 30, 40, even 50 hours a week with no time for your family, let alone yourself.
Being tied to one location but craving the freedom to be able to travel where you want, where you want.
Frustrated at the thought of spending decades going through the same motions, day in, day out.
Doing a job you can't stand, for just enough money to get by on.
Don't worry if you're nodding your head in agreement, because you're not alone, AND there's a way out. The Email Profit Academy will teach you how to build a successful and highly profitable business you can run from anywhere in the world, without the need for any products at all – all you'll be doing in sending emails!
Sound too good to be true?
Take it from me, it's not, because I've done it myself and have helped countless others just like you to achieve amazing success! In fact, in the space of just twelve months I accomplished a six-figure income just from sending emails, and it's not exactly time consuming – in fact, I work on average thirty minutes a day.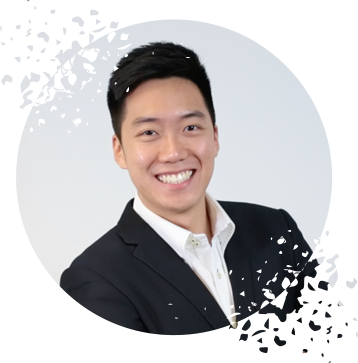 My name is Shawn Josiah, international entrepreneur and founder of Email Profit Academy, and I'm going to teach you the tools, tricks, and techniques you'll need to achieve your dreams of financial and personal freedom via a highly profitable online business.
I've worked with normal men and women from all walks of life, just like you, and helped them become top internet affiliates making substantial full-time incomes just from sending emails. Past students have come from Singapore, Malaysia, United States, Canada, Australia, United Kingdom and even Saudi Arabia – proving that this really works wherever you are in the world.
My success record with graduates making their first dollar online to date is 100%
I don't just expect the people I train to follow blindly what I say – I've been there and done it myself, so you can have complete confidence in my methods! During 2017 I generated over £100,000 in commissions, and I currently bring in a monthly income of five figures using nothing but emails. I'm also the #No 1 affiliate for Les Brown's '12 Laws of Success' program launch, and top affiliate for internet gurus such as Anik Singal's flagship 'Inbox Blueprint' program, Anthony Morrison's 'Fan Page Domination' Launch, and Sonia Ricotti's Unsinkable program – ranking alongside other industrial big names such as Jason Stone and Dawn Clark.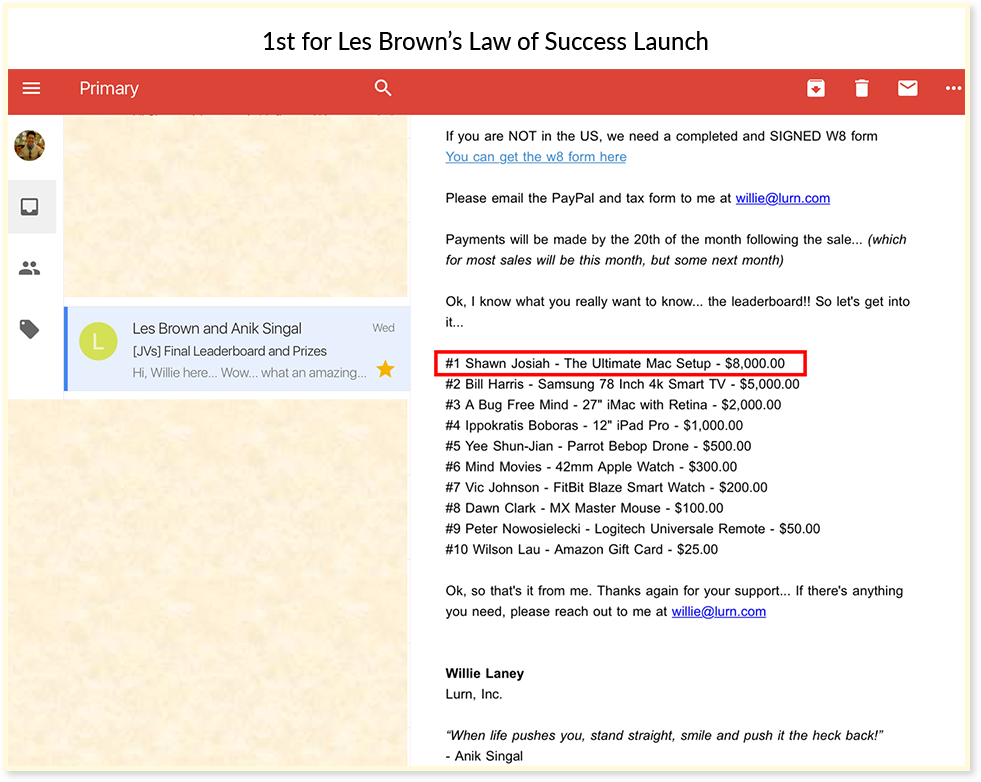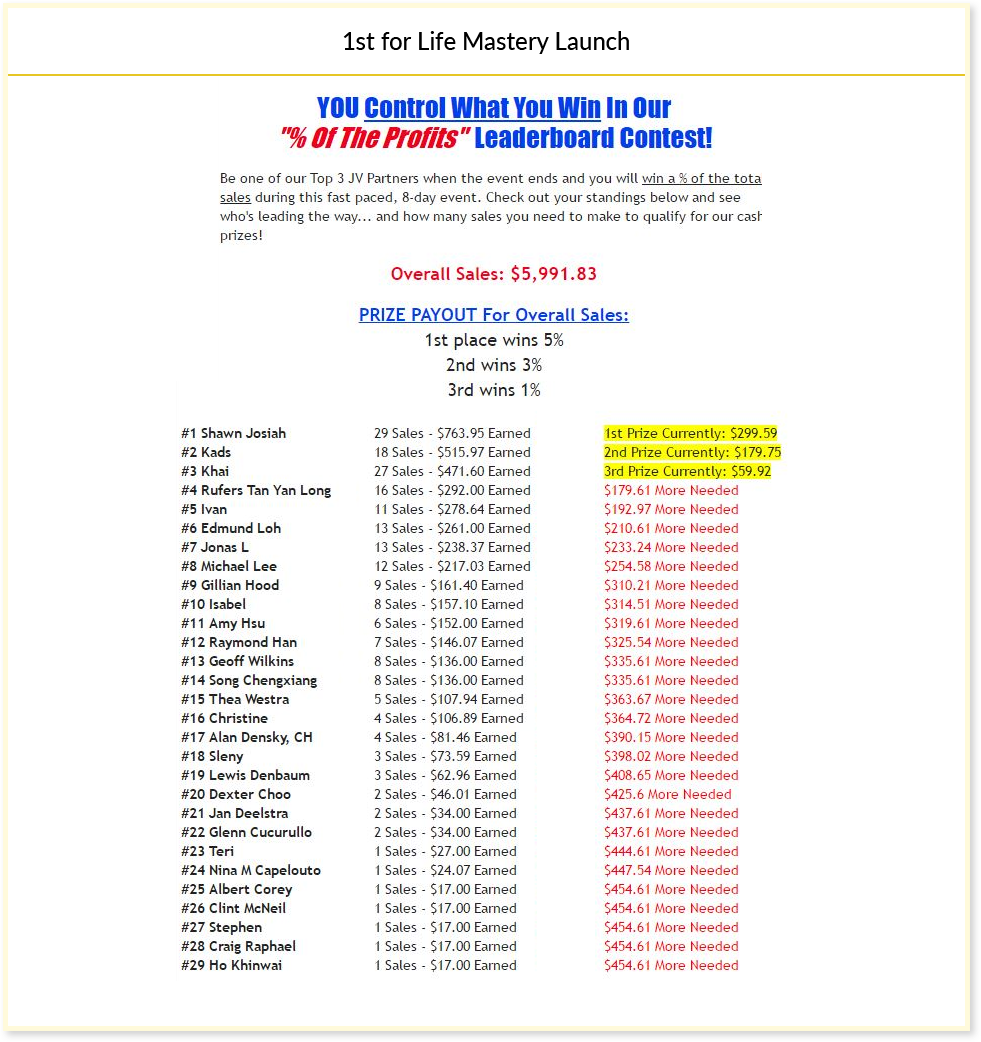 Now, I can TELL you all about my successes and ask you to take my word for it...or I could go one better and SHOW you the actual numbers. So read on for my income proof and progression...
PayPal: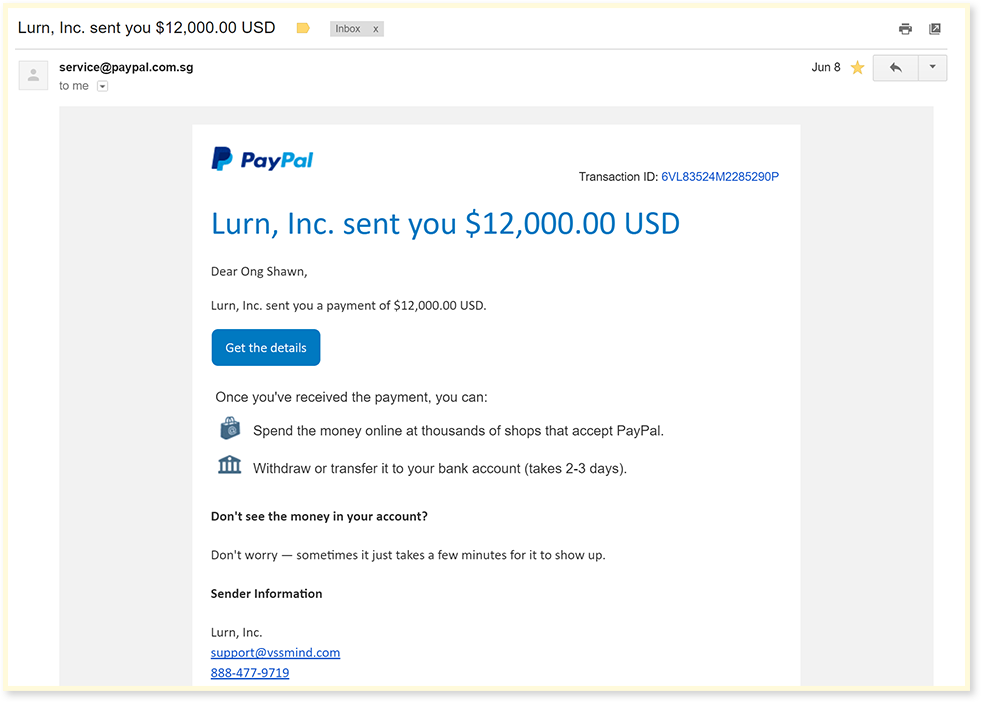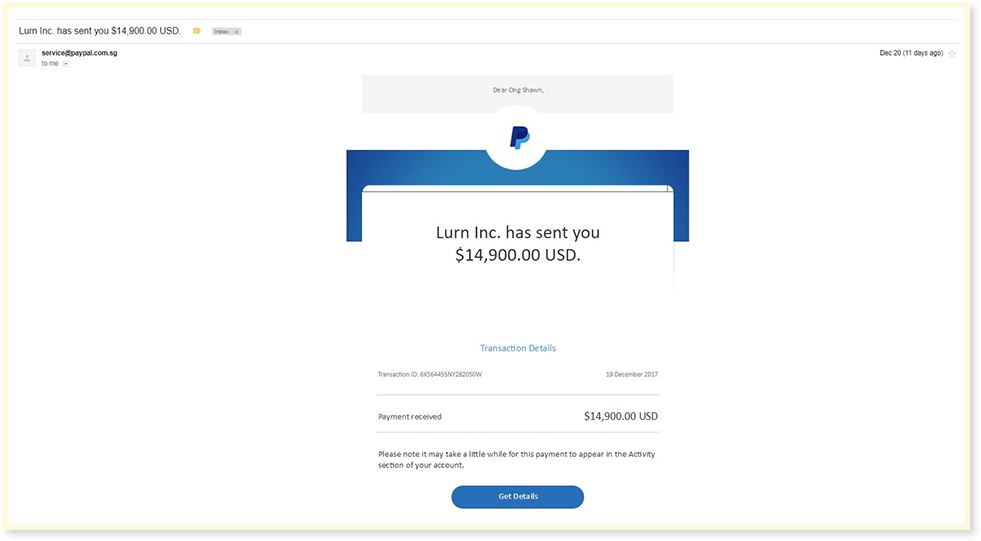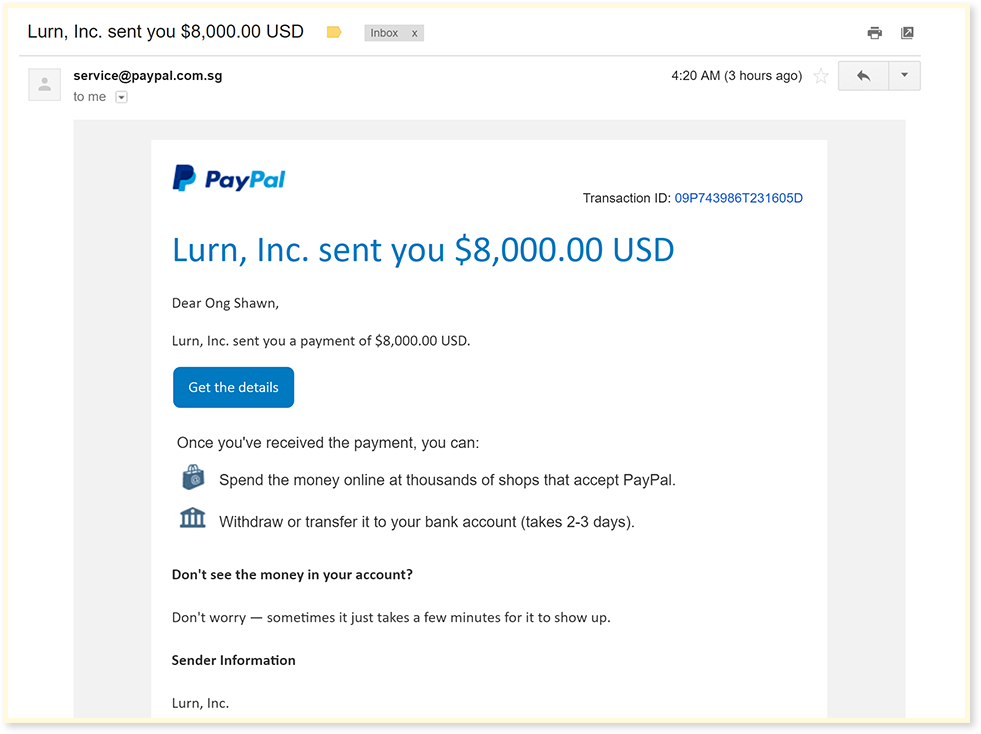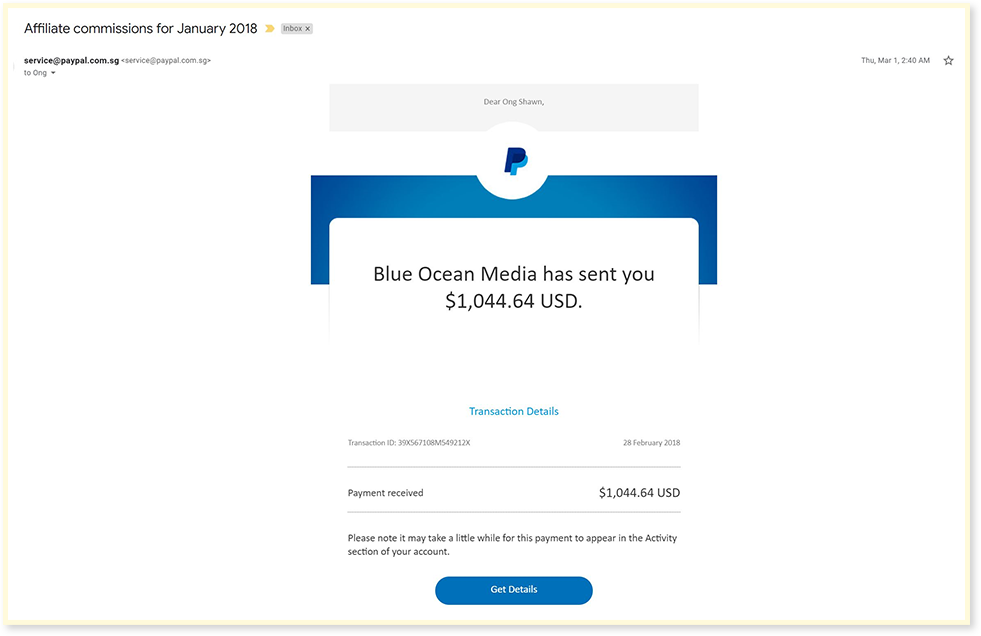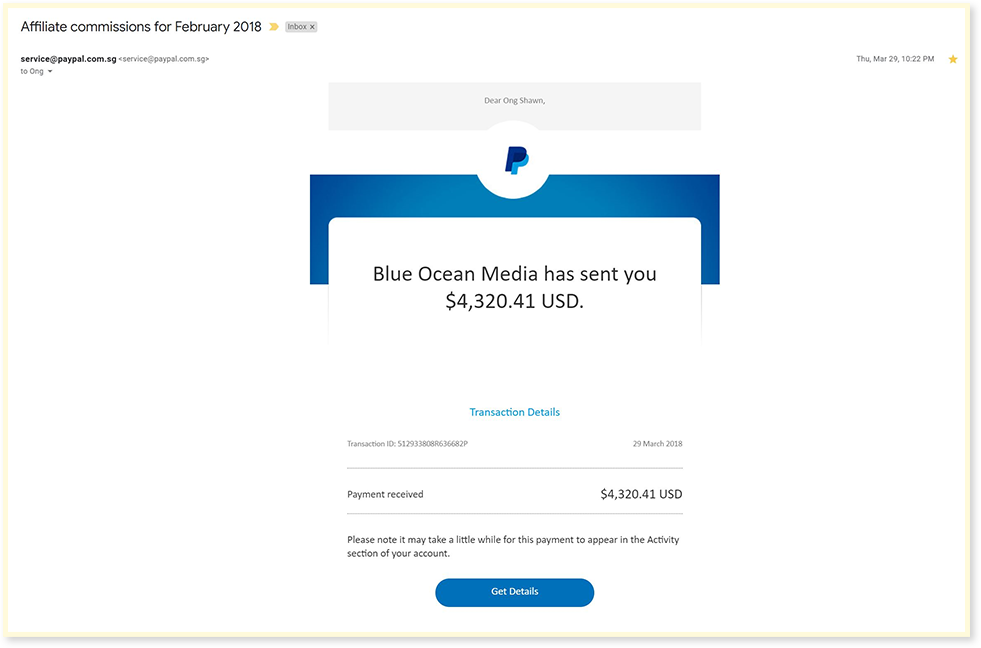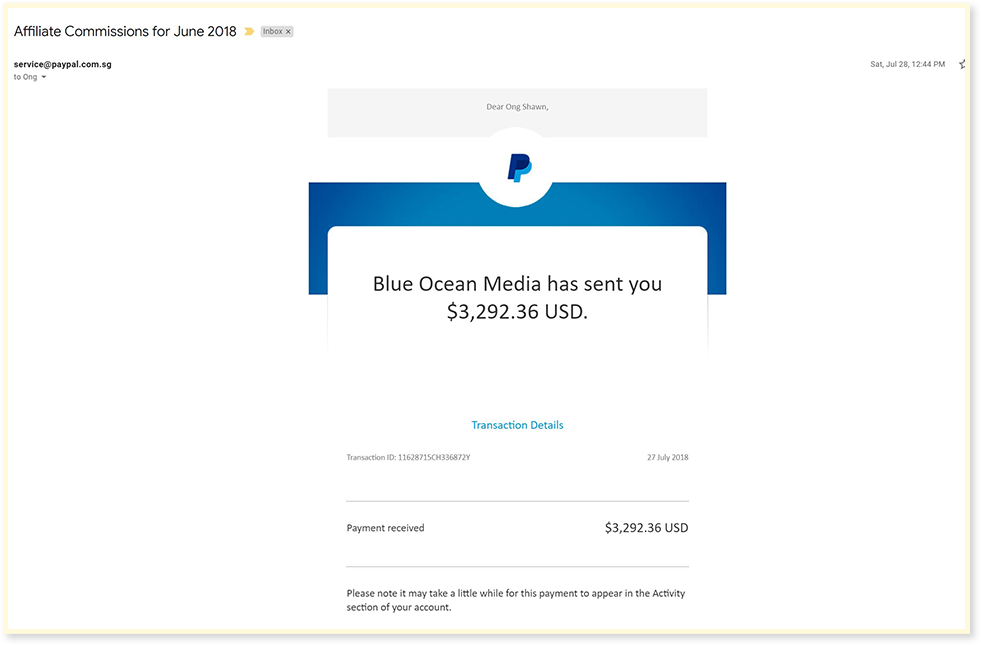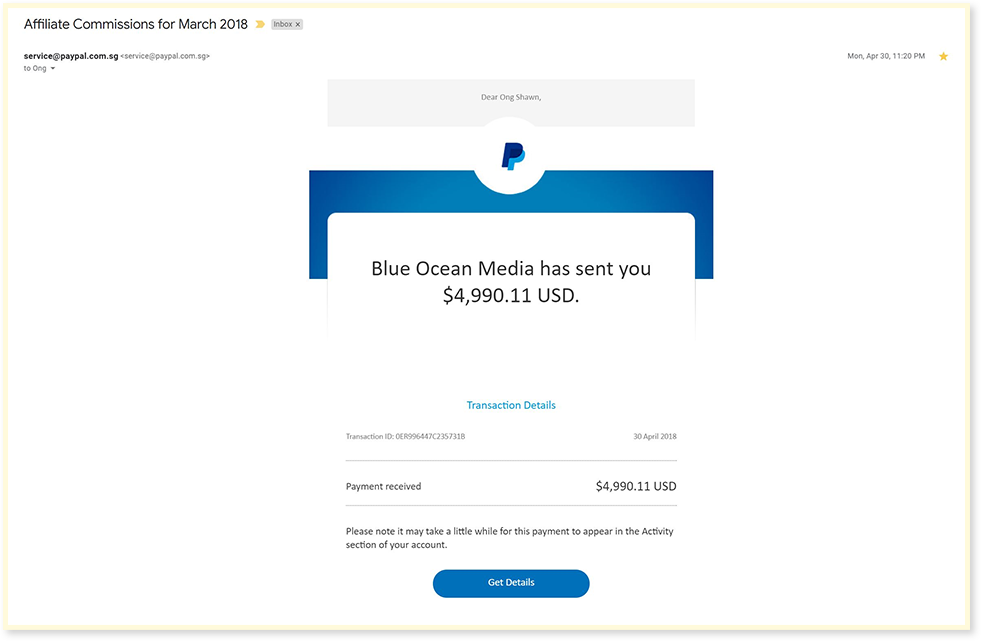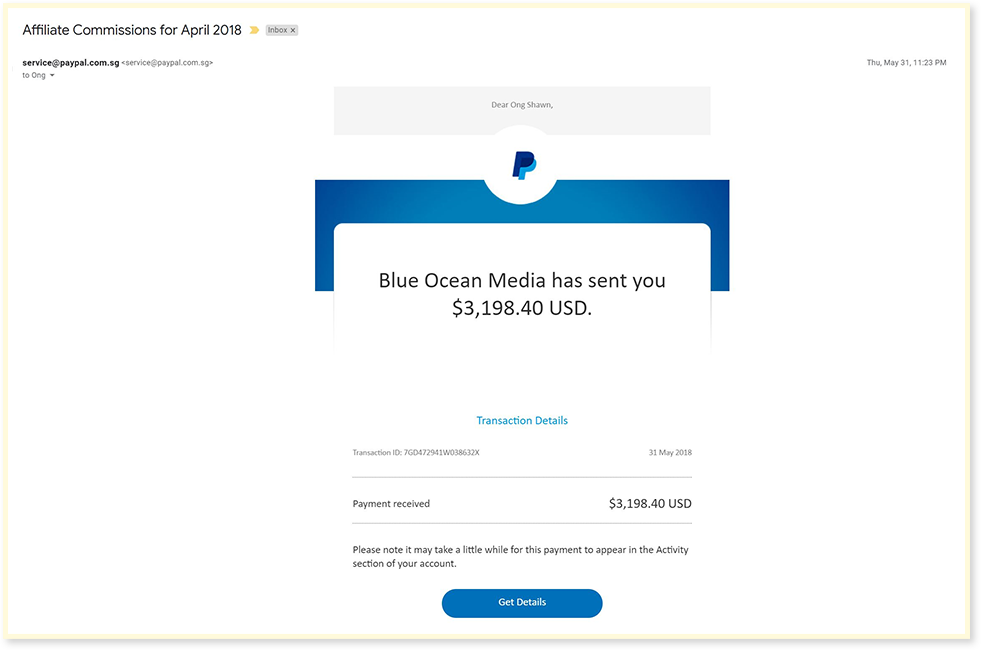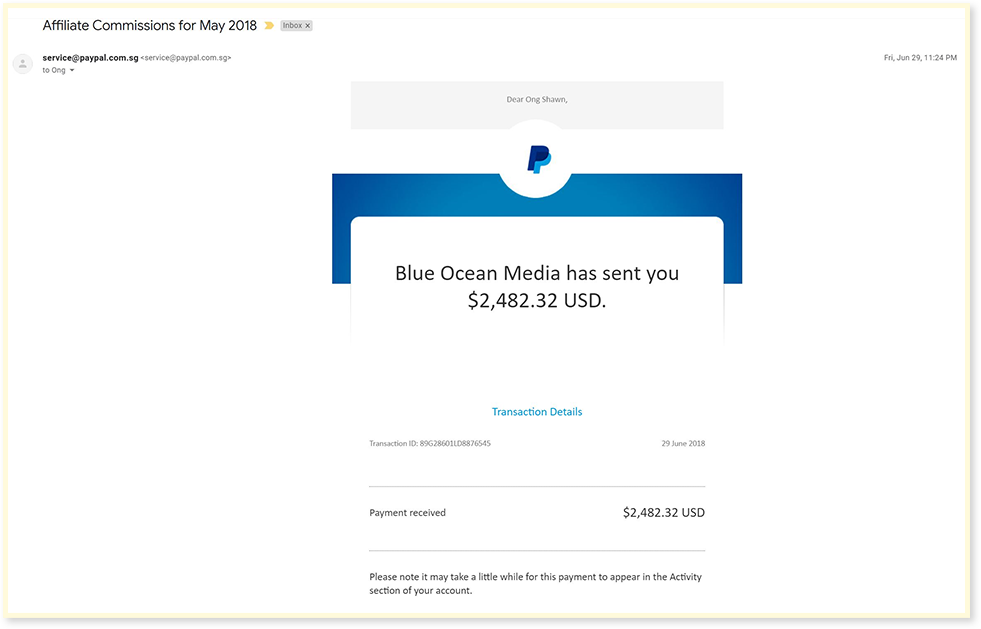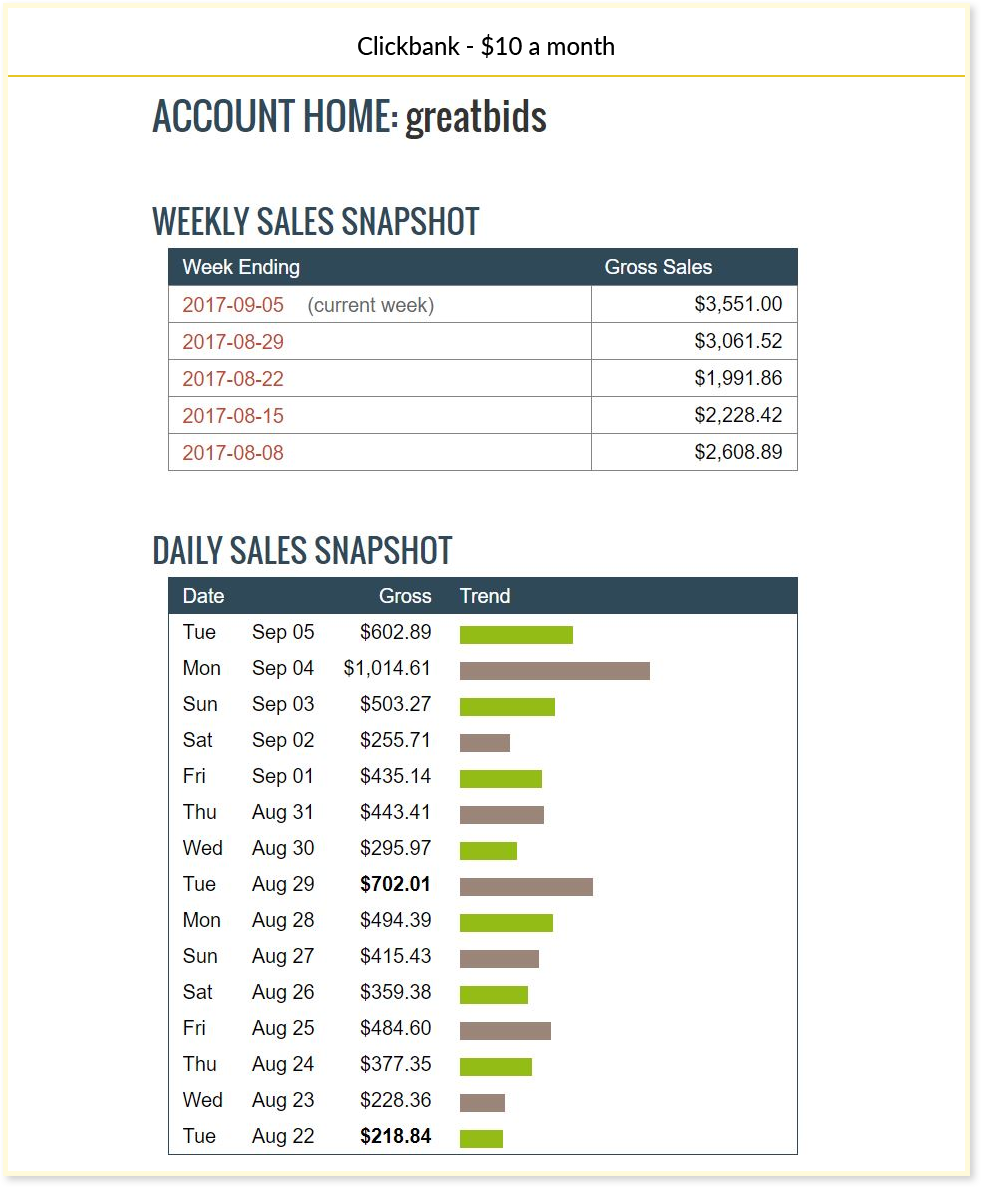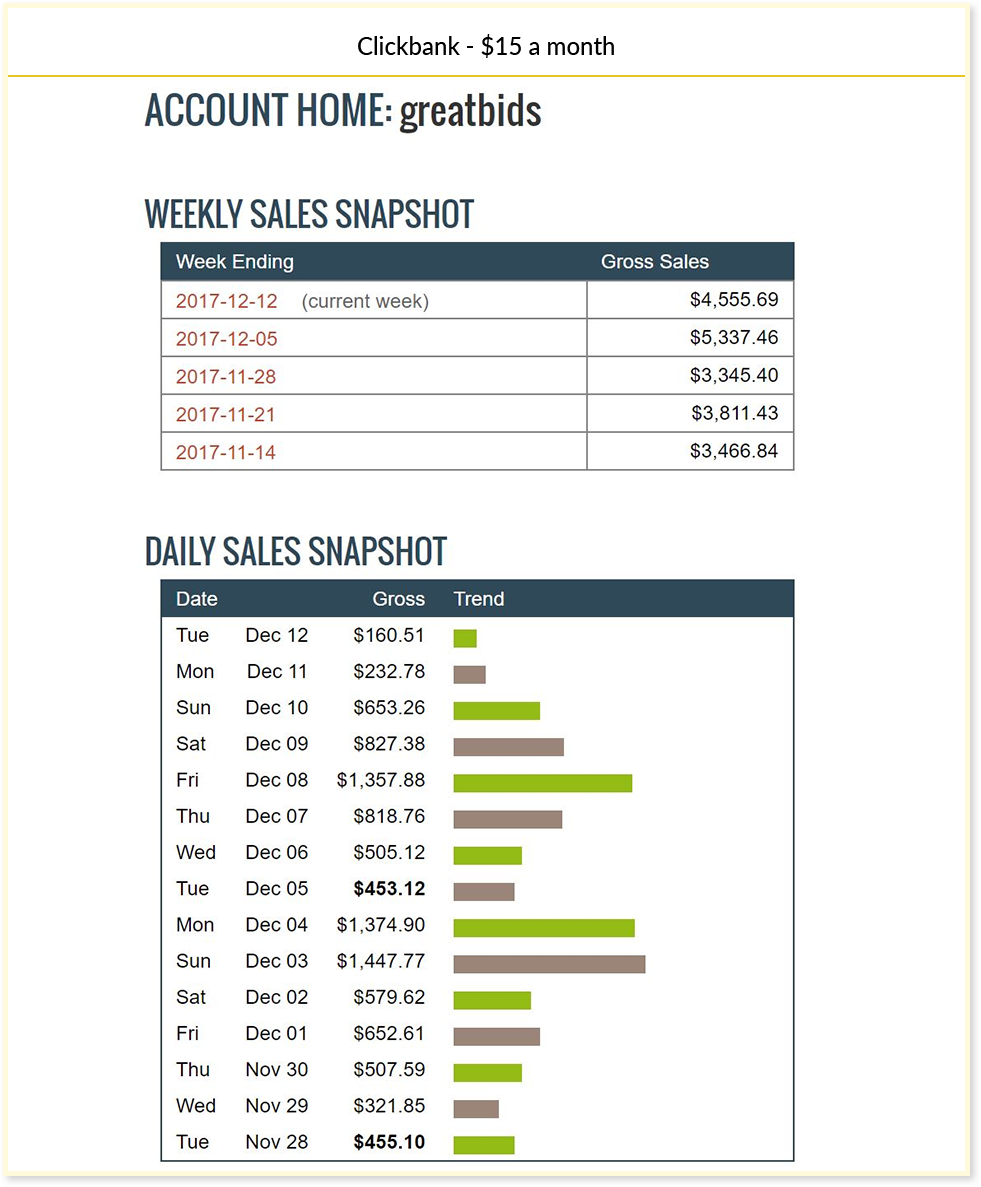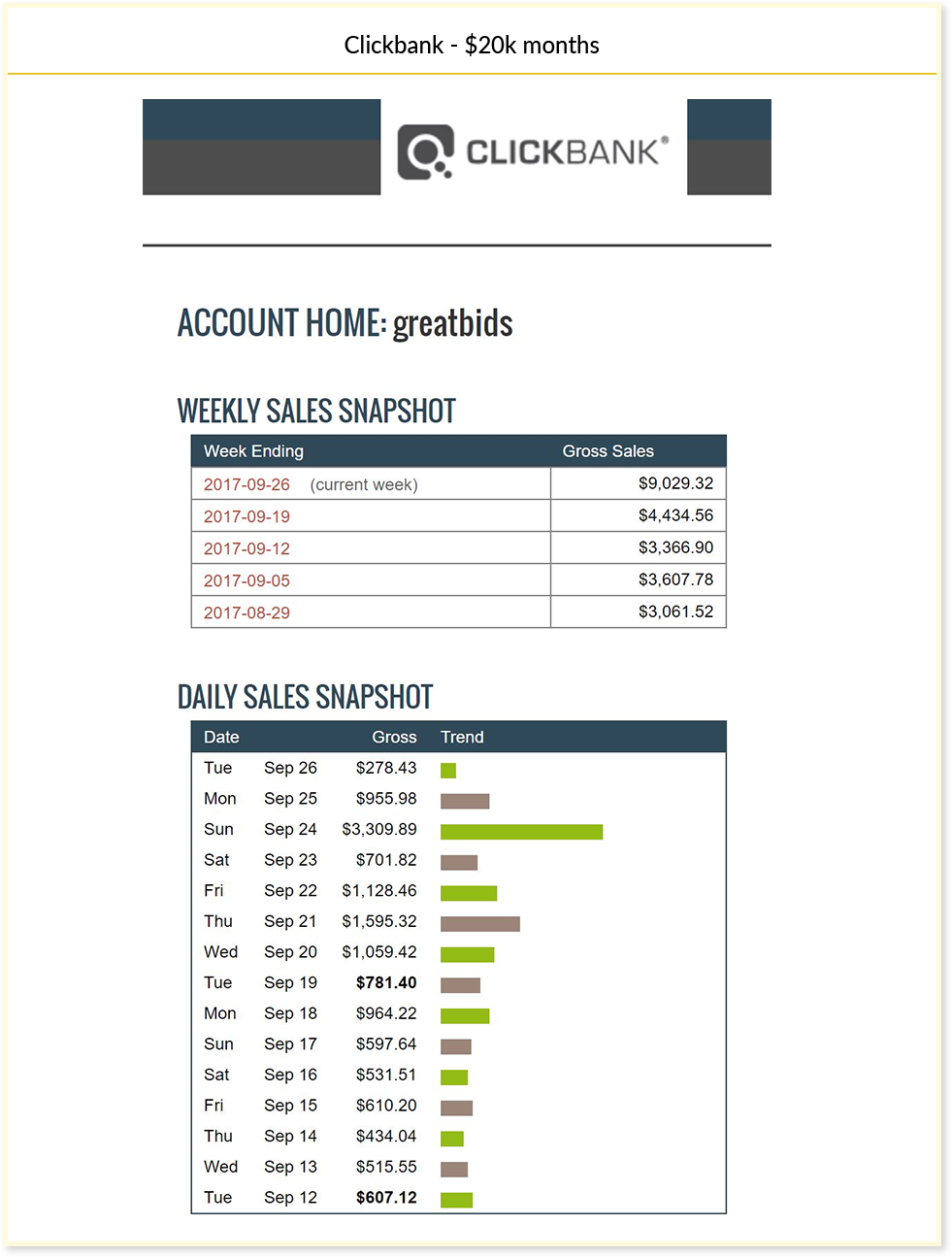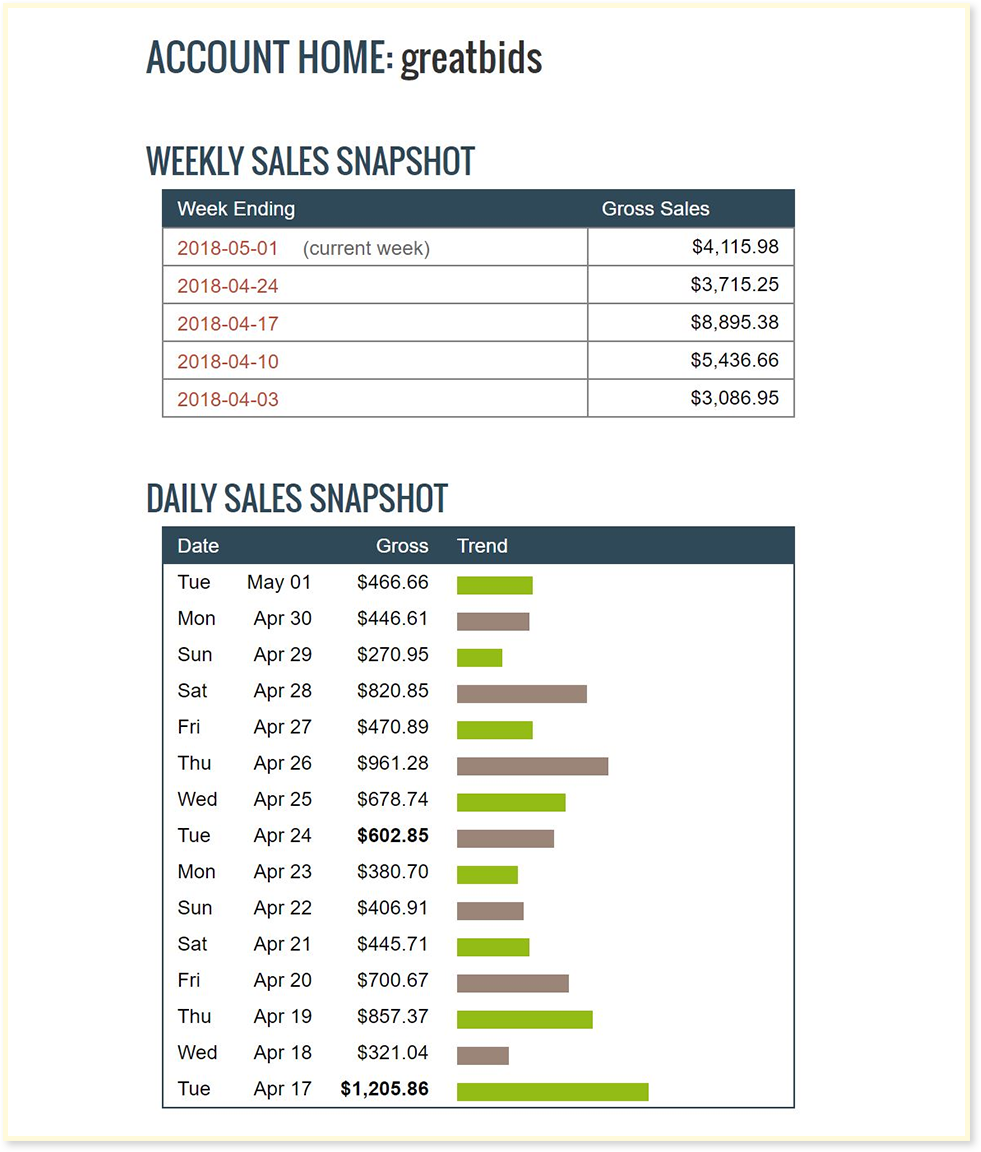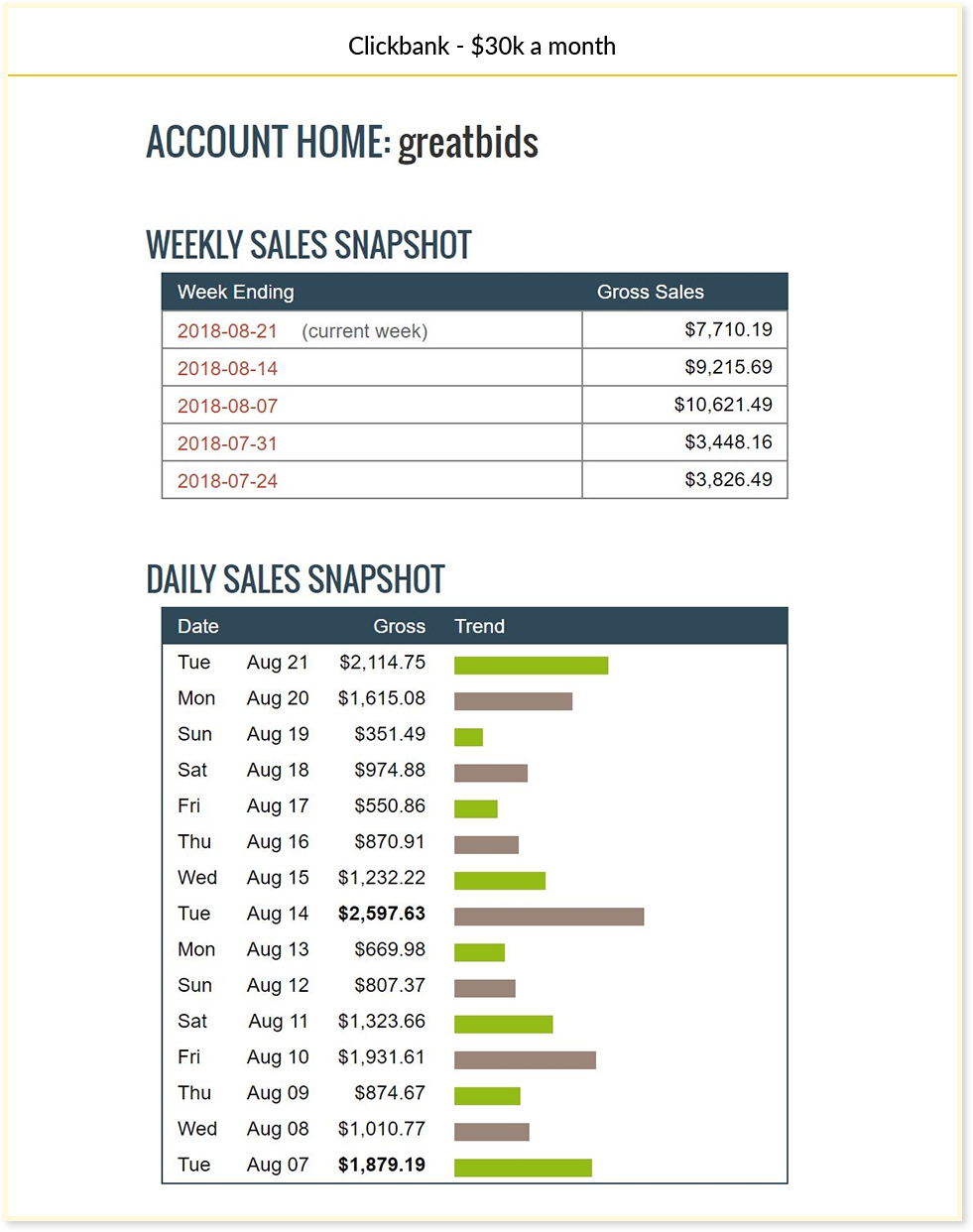 My background is fairly ordinary, I grew up in Singapore with two busy parents who worked long and hard to look after the family, meaning I missed out a lot on probably the most important aspect of family life – time spent together. That meant that despite the idea of massive wealth being seemingly unattainable, I've always had in the back of my mind the thought that I wanted things to be different when I grew up, I wanted to have the time AND money to have a well-rounded family life. Coupled with a passion for success and a hunger to break out of mediocrity, they allowed me to be able to enjoy my current lifestyle.
And you know what? It's now my mission to help as many other ordinary and passionate individuals to do exactly the same, escape the nine to five drudgery, the just scraping by every month, and experience true financial freedom.
Video Testimonials of Students
James from UK,
Software Engineer
KELVIN FROM SG,
Photographer
How is This Sounding to You So Far?
Hopefully you're as excited as I am (or almost, at least!), and I can promise you that at the Email Profit Academy we completely understand the challenges you're currently facing, and we also know how to face those challenges head on and smash down the hurdles to your success – whether it's wanting to break free from working for somebody else, not being able to scale your business, not seeing the sales you need coming in, being unsure of the direction you need to go in, not being able to balance sales, relationship, and content emails, lacking a strategy for mailing, or not knowing how much you should be investing in ads.
If you're passionate about building a successful future for yourself, and your family, and ready to take control of your financial freedom, then the Email Profit Academy is ready to facilitate your very own profitable online business, built with integrity and professionalism.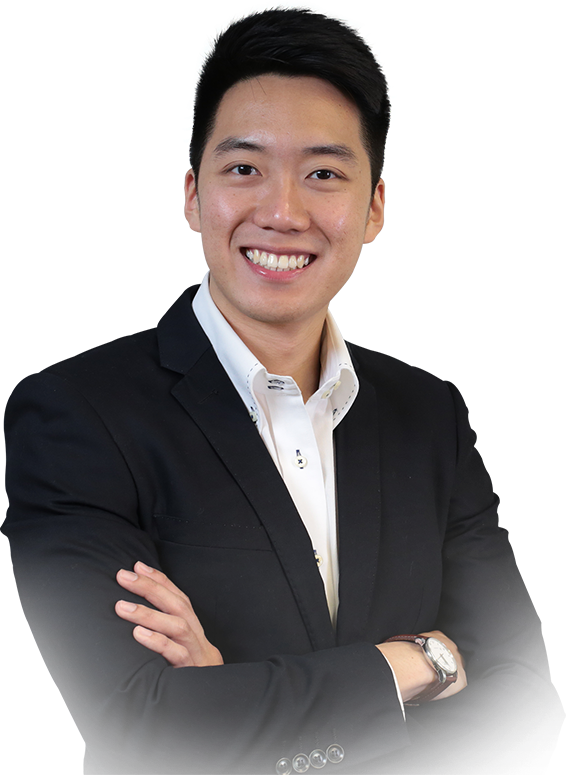 Introducing the Email Profit Academy's Extraordinary New Course, The 7 Steps Email Profit System…
STEP ONE: Finding a Niche
The first step in any online business, finding a niche might seem easy – but the important thing here is finding a profitable niche.
To make a six-figure income using nothing but emails (to make ANY income using nothing but emails, in fact!), you're going to need to build a strong email list of people who actually want to hear from you. How? By using an ethical bribe!
Once you know what your ethical bribe is going to be, you'll need to make sure you have a way of getting those email addresses. That's where your capture page comes in!
From free traffic (using Facebook, YouTube, and blogging), to paid traffic and ads.
STEP FIVE: Email Auto Responders
What they are and why you need them – you'll learn absolutely everything you need to know in this module, from email templates to tried and tested mailing strategies.
STEP SIX: Finding a Product
Even though you won't be handling a physical product, your online email business will of course need one – so here's how to pick the perfect product.
The final module takes you through how to scale up your business for ultimate success and a shot at the best opportunities.
All you're going to need to achieve the financial freedom you deserve is a passion to be successful and the Email Profit Academy…
If you dare to dream, you can take control of your life and your bank balance. If you're ready to dream big, the Email Profit Academy can show you how to make an incredible full-time income by sending emails.
You're Probably Wondering What YOUR Investment is Going to be? (Apart from Your Time, Passion, and Commitment)
Quite frankly I'd imagine that achieving financial freedom is priceless, and I know I could charge much more than I to - but my ambition is to help as many regular people as possible, which is why you can sign up today for The 7 Steps Email Profit System for a one-time payment of $997 only!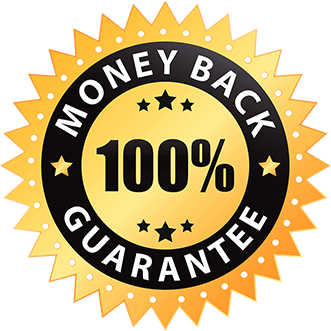 If you're ready to start your journey from where you are now to where you've always dreamed of being, why not sign up today for The 7 Steps Email Profit System… and if you do not make any money after applying what I've taught, I'll give you 100% of your money back.
Sound crazy?
Trust me, I'm not, I'm just SO convinced that I can help you build a six-figure online business through just sending emails, that I'm willing to put my money where my mouth is and offer this unbelievable money-back guarantee – no questions asked! (Oh, and of course my 100% success rate so far helps my confidence!).
So when you think about it, your decision to sign up for The 7 Steps Email Profit System is quite possibly the easiest one you've had to make all year – there's no risk at all!
Sign Up for the Course Now!
To your ultimate success,
Shawn Josiah
Founder
Email Profit Academy
P.S. Don't let uncertainty hold you back – if you're looking for financial freedom, and the completely new way of life that comes with it – YOU have to be the one to take the first step. The Email Profit Academy is here to give you the tools to take that step!
P.P.S. Still not sure whether The 7 Steps Email Profit System is something that can help find your financial freedom? Don't forget that thanks to our fantastic money-back guarantee, you can sign up completely risk-free – that's how confident I am.